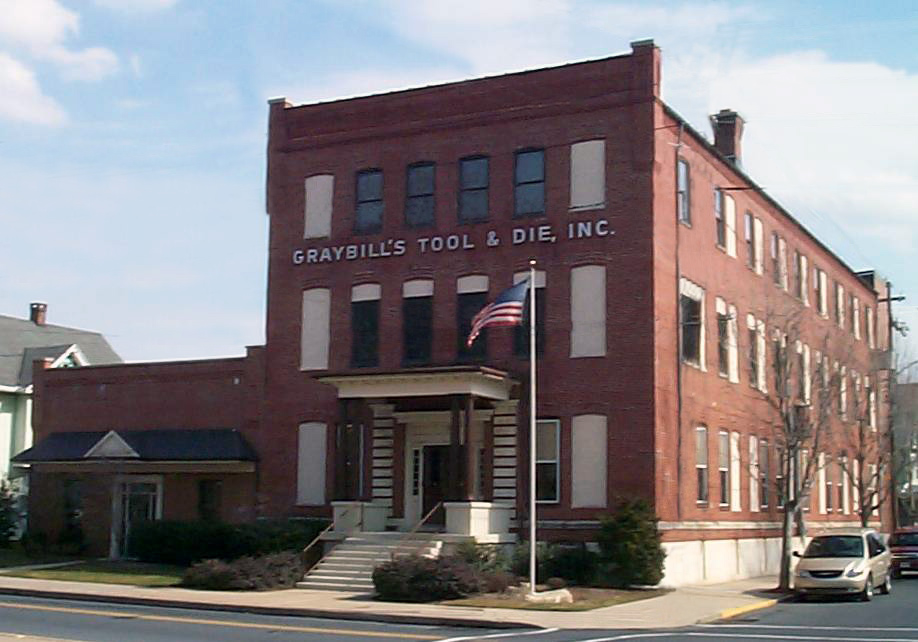 In 1956 H. Roy Graybill of Manheim founded Graybill's Machine Shop located on E. Ferdinand Street. In 1959 his son H. Reid Graybill began to work for the company. In 1960 the name was changed to Graybill's Machine and Tool. The company's name was changed to the present Graybill's Tool and Die, Inc. in 1974. Shortly thereafter the old Cinco cigar factory located at 147 W. High Street was purchased. Graybill's Tool and Die, Inc. renovated this building and moved into it in 1978. Due to growth of the business, the property next to the east side of Graybill's was purchased and an addition was added in 1993.
The original building at 147 W. High St. was built in 1912 by the N. W. Gingrich Construction Company of Manheim to be a modern cigar factory. The building held it's grand opening in 1913 and began manufacturing hand-rolled Cinco cigars. Around 1923 the William R. Noggle Shirt Company, a producer of men's shirts and pajamas, purchased the building and used it as a sewing factory for many years. If you look very carefully, once in a while you can find a straight pin still lodged in a crack in the floor boards. The building had several different owners until Graybill's Tool and Die, Inc. purchased it in 1977.
Presently the company averages around 30 - 35 employees and operates as a full service jobber in the business of providing complete design and build of special machines, manufacturing systems, machine controls, panel building, prototypes, custom tools, dies, jigs, fixtures and precision machined parts. Designers employ full solid modeling software as well as 2D CAD (Computer Aided Design). Computer controlled as well as traditional machine tools and techniques are used to complete business operations.